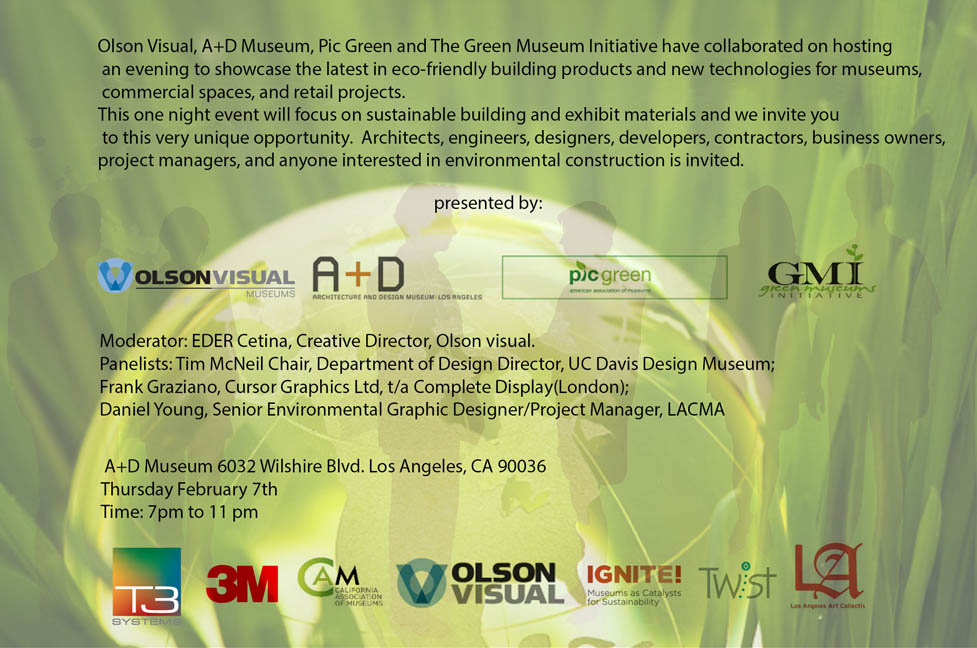 Olson Visual Invites You to a Special Evening   
Olson Visual, A+D Museum, Pic Green, and The Green Museum Initiative will host an evening that will showcase the latest in eco-friendly building products and new technologies for museums, commercial spaces, and retail projects.
This one night event will focus on sustainable building and exhibit materials and we invite you to this very unique opportunity. Architects, engineers, designers, developers, contractors, business owners, project managers, and anyone interested in environmental construction are welcome.
Location: A+D Museum 6032 Wilshire Blvd. Los Angeles, CA 90036
Thursday Feb. 7th, 2013
Time: 7:00 – 11:00 p.m.
Moderator:  Eder Cetina (Creative Director of Olson Visual)
Panelists:  Tim McNeil (Chair, Department of Design Director, UC Davis Design Museum)
Frank Graziano (Cursor Graphics Ltd, t/a Complete Display (London);
Daniel Young (Senior Environmental Graphic Designer/Project Manager of LACMA)
If you have not been receiving our monthly newsletter, please inform