Here are pictures of the new install of Ben Jones: The Video, on view now at MOCA Pacific Design Center.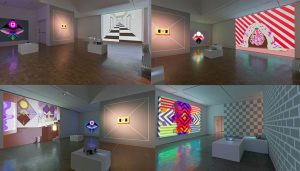 Located in the heart of West Hollywood, MOCA Pacific Design Center features rotating exhibitions of architecture and design and specialty shopping at the MOCA Store.
MOCA presents Ben Jones: The Video, the first time this artist is doing a solo show in the West Coast. It is on view from November 3rd to February 24th 2012. The exhibition has new paintings and video that show the artist's previous art using the abstracted forms of pop icons and technology of our time to create narratives that are surrealistic and introspective environments. These are defined by their kaleidoscopic ways of bright colors. With a great sense of material, Ben Jones has played with traditional art like painting, but also animated music videos, produced costumes, and art from the web, cartoons and music.
For more information on his work:
http://www.moca.org/museum/exhibitiondetail.php?id=474
To visit:
8687 Melrose Avenue Los Angeles, CA 90069 (310) 657 – 0800
http://www.moca.org/museum/moca_pdc.php?