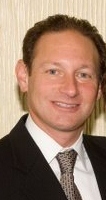 One of the many reasons I enjoy writing this blog is that it gives me an opportunity to talk about the people in this Industry that I admire the most.  I am very proud to shine the spotlight on my dear friend Scott Forman, SVP and Assistant General Sales Manager at Warner Bros. Pictures, Domestic Theatrical Distribution.
Scott was recently honored by Time Warner, the parent company of Warner Bros. Pictures, as a recipient of its 31st annual Heiskell Community Service Awards.  These awards represent Time Warner's highest honor for its employees.  "For more than 30 years Time Warner has celebrated the character and volunteer spirit of our employees with the Heiskell Awards." said Jeff Bewkes, Chairman and CEO of Time Warner Inc.  "I am once again proud of the selfless, passionate and creative efforts of this year's recipients to help make a difference in the lives of others and in the communities in which we do business."  Scott's award is particularly noteworthy because this is the very first time that someone from Warner Bros.' distribution division has been awarded this most prestigious recognition.
This is not the first time Scott has been honored for his humanitarian efforts.  In 2007, he was recognized with the "Al Shapiro Distinguished Service Award" at ShowEast as an executive who best represents the dedication, care and concern for the betterment of the motion picture industry.  "I can't think of a more deserving individual in our Industry to receive this award than Scott." said Mitch Neuhauser, ShowEast Co-Managing Director, at the time.
A graduate of UCLA, Scott began his career in this Industry at the young age of 17 as a Sales Trainee with Columbia Pictures and left in 1987 as the Sr. Sales Manager for the San Francisco, Seattle and Portland territories to accept a job at MGM/UA as Regional Director for the same branches.  In 1989, Scott made his move to Warner Bros. Pictures and began his successful 23 years & counting there.  He went on to become the Los Angeles District Manager in 1994 and Vice President, Western Division in 1998.  When Scott was promoted to Senior Vice President in 2001, he added the Mid-Western Division to his existing responsibilities.  He was promoted to his current position of Senior Vice President & Assistant General Sales Manager in 2006.
In 2000,  Scott joined the Board of Directors for Variety – The Children's Charity of Southern California (Tent 25) and currently serves as its President.  He is also a member of the Will Rogers Motion Picture Pioneers where he created a partnership with the Will Rogers Motion Picture Pioneers Foundation to provide neo-natal ventilators to the St. Francis Compton Hospital.  Scott, along with his 13 year old son Jeremy, also founded Jr. Variety—a philanthropic group that engages teenagers in charitable activities and allows them to hold seats on the Club's board.  The Jr. Variety teens have raised over $225,000 to help other kids in need.  Scott is also the co-creator of Variety's Kids, an online auction site launched in 2004 where one can bid on unique movie and entertainment items.
Scott also sits on both the "Changing Children's Lives" Capital Campaign Committee and on the Construction Committee for the Variety Boys & Girls Club of Boyle Heights.  The committee has raised over $10.1 million towards building a new state-of-the-art Boys & Girls Club to replace the building that was built in 1930.  The new building was recently finished and is now open to serve its Community.
One would wonder, how can one person be so successful in his career and still find time to "give back" to all these charities?  There aren't that many hours in a day.  I've known Scott for many years and I can tell you that he has managed to juggle both tirelessly and expertly.  Mitch Neuhauser said it best, "Scott Forman is that rare executive today who has achieved enormous success from both a business  and charitable standpoint and this is a great feat in and of itself."
Congratulations, Scott, on your many achievements and I know that there are many more to come.  I am priviledged to know you and am proud to call you my friend.