NOTE:  The following article was published in the Spring 2012 issue of ShowTime Magazine, The Theatre Industry's Official Marketing Preview Guide.
EXHIBITOR PROFILE:  LYNDON GOLIN
                                                 by Ron Chan
Our motion picture exhibition industry has been peppered with dynamic individuals who have helped make it what it is today.  Such exhibition icons like Sid Grauman, Stan Durwood, Jim Edwards, Sr. and Ted Mann…to name a few…have shaped the exhibition landscape.
Now, a new generation of theatre owner/entrepreneurs has taken up the baton.  One such individual is Lyndon Golin, President of Southern California based Regency Theatres.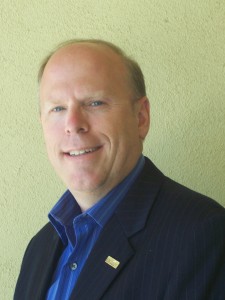 At an early age, Lyndon learned the value of Showmanship.  One of six children, Lyndon is the son of Marion and Harry Golin.  Harry owned the Embassy Theatre in Los Angeles and later ran the Earl C. Strebe Theatres which included the Village, Camelot, Plaza and two drive-in theatres in Palm Springs and Big Bear, California before moving the entire Golin family to Victoria, British Columbia where he worked for the Canadian Odeon theatre circuit.
At age 18, Lyndon really began his movie exhibition career…as a theatre usher at the Cineplex Odeon Beverly Center in Los Angeles and rose the exhibition ladder to become its General Manager in 1987.
Throughout his Management career, Lyndon believed a successful promotion which creates excitement for a film could make a difference at the Box Office.  In 1989, Lyndon and his sister, Cindy, did a promotion at the Cineplex Universal 18 Cinemas in North Hollywood for the James Bond movie LICENCE TO KILL and won the Grand Trip prize which included a trip to Key West Florida and a Sterling sports car.  "The promotion transformed the Universal 18", recalls Lyndon, "into a James Bond action sequence with Jet Skies, Paratroopers, a Sterling sports car and Bond films projected in 35mm on the outside of the theatre building (visible to Universal Studio Tour attendees).  The lobby became the setting for a James Bond cocktail party."  And, continues Lyndon, "We partnered with Martini and Rossi and Sterling.  People came dressed as look-alikes of James Bond and Bond Girls, enjoyed cocktails and checked out the new line of Sterling Automobiles."
In 1990, Lyndon was awarded "Manager Showman of the Year" by Cineplex Odeon for his consistently successful in-theatre promotions.
Lyndon then took a short break from theatres to spend time on the other side of the movie business fence.  "I worked at Universal Pictures and MGM-UA in their Exhibitor Relations Dept. and at Hollywood.com (now Movietickets.com) where I oversaw the development of the first national theatre locator."
Finally, in 1996, Lyndon was bitten by the"theatre owner bug" and he founded Regency Theatres with his wife Monica and his brother Andrew Golin.  "Our first theatre", recalls Lyndon with pride, "was the Paseo Camarillo Cinemas in Camarillo, California.  It was Ventura County's first art house theatre."
Regency now operates 29 theatres with a total of 195 screens in Southern California including the iconic Village and Bruin Theatres in Westwood, The Lido in Newport Beach and the CASABLANCA themed Dine-In Theatre and Restaurant in San Juan Capistrano, California called Rick's Cafe.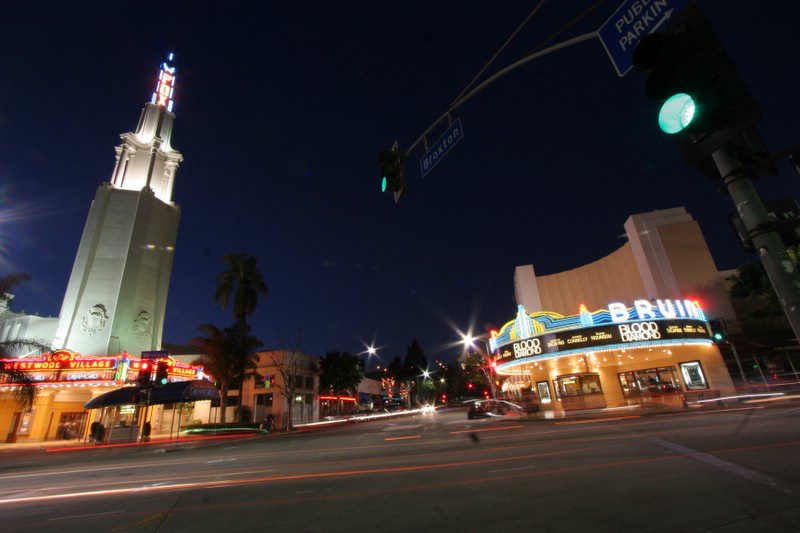 "Regency's charter", states Lyndon, "is to establish 'neighborhood theatres' where the theatre becomes a cornerstone of the Community.  This is fostered by partnering with the city schools, churches, non-profits and other local businesses."
"Our mission", continues Lyndon, "is to preserve the event of moviegoing by enhancing comfort, presentation, customer service and value perception.  The focus is to make people feel like they are in a special place when they enter our theatres."
What becomes very evident when looking over Lyndon's professional career is that he does possess that showmanship spirit of past showmen like the legendary Sid Grauman.  It was Grauman who came up with the world famous "Hand and Footprint Ceremony" at his Grauman's Chinese Theatre in Hollywood.  And it was Grauman who started the mantra that the movie theatre is the closest link to Hollywood—by staging events to draw the public to HIS theatres.
What Lyndon is doing is combining the best "Old School" and "New Age" marketing and showmanship strategies.
Putting a giant penguin on top of his Lido Theatre to promote THE MARCH OF THE PENGUINS is definately an "Old School" tactic for attracting attention that the great Warner Bros. publicist Marty Weiser definitely would have done.
A very popular program Lyndon has fostered at his theatres is "Flashback Nights"—screenings of classic films from the past to attract film buffs and fans who want to see these movies on the big screen again or for the first time.  "To kickstart these", explains Lyndon, "Regency will give 2 for 1 admissions to guests who attend the initial films to come back to the next one and bring a guest."
Lyndon also injects a bit of "Old School" showmanship to these presentations with fun activities.  For the screenings of Mel Brooks' outrageous comedy BLAZING SADDLES, Lyndon gave out Whoopie Cushions and cap guns to make these screenings more of a fun event.
Other special in-theatre activities designed to keep Lyndon's patrons coming back to HIS theatres include:  Manager Introductions before the beginning of each performance; $1 Eisenberg Hot Dogs; Exit Greetings where Regency staff distribute Key Lime mints to exiting guests; art exhibits in the theatre lobbies; special filmmaker Question & Answer sessions.  To attract the neighboring UCLA students in Westwood, Lyndon sells a UCLA branded reusable popcorn bucket that will give the student free refills any time it's presented at Regency's Village and Bruin Theatres.
Embracing the latest social media technologies, Lyndon is using such "New Age" marketing tools like Facebook for ticketing and promotions and Showtimes Direct, a theatre targeted showtimes email blast.  There are also Regency Rewards Cards which give the patron special deals at all Regency Theatres.
With his very busy schedule, Lyndon still finds time to serve on the Board of the Variety Boys and Girls Club and stages an annual Charity Street Carnival to benefit the Variety Boys and Girls Club called A DAY AT THE MOVIES.  The Carnival takes place on the street in front of the Village and Bruin Theatres in Westwood with game booths sponsored by the major movie studios.  Giving back to the Community is very important to Lyndon and the Golin family.
At a time when the film exhibition industry has been going through changes such as contraction and consolidation, it's both refreshing and encouraging that entrepreneur/showmen like Lyndon Golin are successful and growing.  Somewhere in The Big Movie Theatre In The Sky, the faces of Sid Grauman, Stan Durwood, Jim Edwards, Sr. and Ted Mann are smiling.
Save