Olson Visual has spent the past year forging new frontiers in the graphic industry.  They become G7 certified and continue to pledge their green initiative by installing a photovoltaic system on the roof of their offices. When looking back upon the projects of 2012, OV participated in this year's biggest box-office hit movies. Here are some highlights of 2012:
To celebrate Relativity Media's release of MIRROR MIRROR with Julia Roberts, Olson Visual staged the beautiful in-theatre costume & prop exhibits. These were installed at Regal's Brea, LA Live Theatres and the Rave 18 Theatre in Southern California.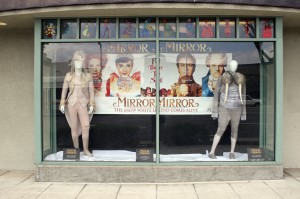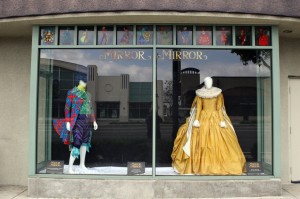 OV also installed a giant double sided graphic for Universal's March release of "DR. SEUSS' THE LORAX" which took 7 hours to install and covers the entire front of the theatre. You can see the whole process in less than 3 minutes here in a time lapse video below.
This year the company placed a gigantic 40 foot high X 32 foot wide banner for Paramount's 3D re-release of TITANIC. This continues a long standing Hollywood Tradition of Showmanship of placing great attention on the cut-outs and banners at the Los Angeles' iconic Regency Village Theatre in Westwood.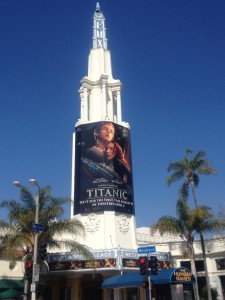 To put it in perspective…this banner is 1.7 times bigger than KING KONG (who was 24 feet tall) and 171 times bigger than a one sheet poster.
It took Olson Visual over 5 hours, 2 cranes and 5 workers to install this humongous banner on the historic tower.
The 170 foot high Village Theatre tower can be seen from most any vantage point in Westwood Village and is considered the symbol of this LA suburb, home of another institution…UCLA.
OV was the official graphics provider for CinemaCon 2012 and as such, printed and installed most of the signage you saw there.  All the elevator doors, escalator walls, floors, mirrors and walls were decorated with graphics printed by Olson Visual.  Our crew started installing the graphics the weekend before  and worked every day seamlessly during the convention changing out various graphics for each event.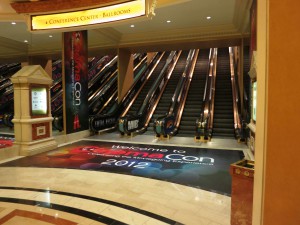 OV had created these magnificent Relativity Media's THE RAVEN column wraps at the Regal Theaters in Long Beach in Southern California.  The movie starred John Cusack and was inspired by Edgar Allen Poe's work.
Olson Visual installed a costume exhibit at the ArcLight Hollywood for Warner Bros.' ROCK OF AGES which incorporated a standee created by Midnight Oil Creative/LAgraphico. This had an interactive green screen element for guests to pose like a rockstar.  It even included a red carpet for you to walk on!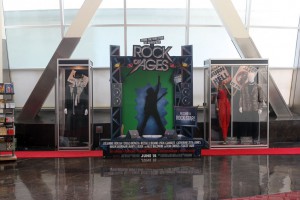 To highlight the opening of Warner Bros. Pictures' THE DARK KNIGHT RISES, Olson Visual installed a special costume exhibit at the ArcLight Hollywood Cinema in Los Angeles.  The exhibit consists of the dynamic costumes of Batman, Catwoman and Bane for fans to get an up close. It was quite a personal treat.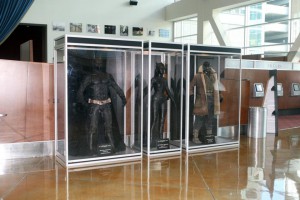 Paramount Pictures and Iron Mountain—a leading worldwide information management services company that assists clients in information storage, protection and management—celebrated the famed movie studio's 100th Anniversary with a concert event  at the iconic Hollywood Bowl in Southern California recently.
Olson Visual created a striking display highlighting Iron Mountain's services and Paramount Pictures' upcoming Blu-Ray releases of TITANIC and the four INDIANA JONES films.  This display utilizes an innovative sturdy and light weight framing system called T3 which Olson Visual distributes.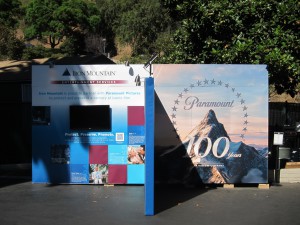 OV printed and presented an eye-catching graphic for Disney's FRANKENWEENIE on a backlit wall at the ArcLight Beach Cities in Southern California.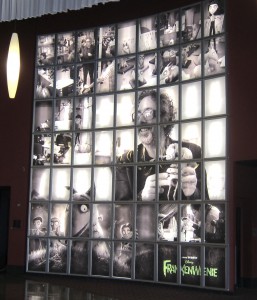 Lastly, Olson Visual this year introduced these amazing escalator graphics. These graphics are impossible to ignore and act like a moving billboard.  The installation process is very precise and time consuming but the result creates a visual impact that makes it totally worth it.
For more information about escalator graphics, contact Olson Visual's Brian Posey or Mark Bastian.
Below are some are this year's examples showcasing the attention getting power of escalator visuals.