Olson Visual's mission is to work with other organizations that are concerned with the environment. Together, they take necessary actions towards reusing, re-purposing, and re-imagining the usage of scraps. This helps reduce the devastating impact that materials have on our landfills.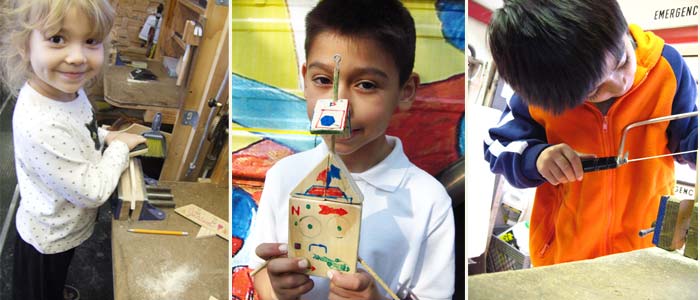 Side Street Projects is a mobile non-profit development that creates educational programs. One plan, in particular, is called Alternate Routes. This enables kids to learn about art, math, and science in a proactive environment. They use materials donated from local companies and implement them into a hands-on learning experience. The Armadillo trailer, one of the classrooms, is a movable community garden that was developed by MIT students.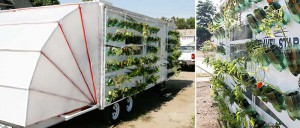 Side Street Projects is also a transportable sustainable arts organization. They help low income artists have access to equipment and supplies. The organizers have described this social enterprise as  "a sustained happening" that functions as both a "family-friendly" non-profit and a "contemporary art piece".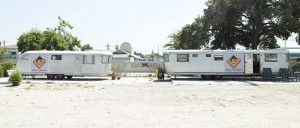 Recently, we spoke to Emily Hopkins, the executive director of the organization, about Olson Visual's efforts in helping Side Street Projects.
1. OV: What kind of materials has Olson Visual donated?
EH: They have donated foam core, builder and gator board.
2. OV:  How are these supplies being used?
EH:  It is used to pack artist prints for our annual fundraiser where we sell limited edition artist prints. http://sidestreet.org/prints/ The expenses of the fundraiser would not happen without the donation of this packing material. The event raises money to teach children how to use tools in our mobile education program. http://sidestreet.org/mobile-education/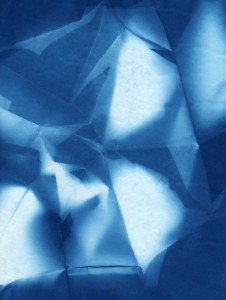 We have also used OV's material for a printmaking class at the Norton Simon Museum in conjunction with the Hiroshige: Visions of Japan exhibition. Students created their own artwork using the show as inspiration. We used the foam core for mono and relief prints.
The same materials are adopted into our community programming. Recently, students made dioramas of outer space. One student in particular, made a really cool rocket.
Side Street Projects have recently been offering architectural model workshops that uses wood and foam core. These particular materials were directly contributed from Olson Visual.
The remainder of donated scraps are given to artists for their practice. Bari Ziperstein used OV's material for a site-specific sculpture installation that can be seen here: http://bariziperstein.com/work/gallery/575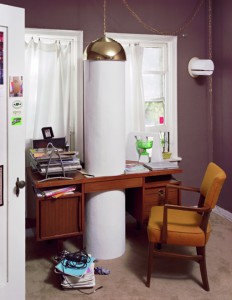 3. OV: How would you best describe the experience when working with Olson Visual?
EH: Olson Visual is fantastic to work with. If we give them enough time and tell them what we need, they actually will cut the size of material for us. They always give us extra supplies because they would rather see it go into the hands of a budding artist than the dumpster.
4. OV:  Do you consider Olson Visual one of the top eco-friendly companies?
EH: Absolutely! It is more work for them to give us scraps than it is to just throw it away. They also keep up with the latest technology to be the best that they can be in their industry.
To find out more information how you can be involved in Side Street Projects, click here to visit their website: http://sidestreet.org/


Olson Visual also donates scrap to the Trash For Teachers program, where they re-purpose material in interesting ways. They create hands-on workshops that promote curiosity about our environment. For example, they teach high school students how to convert energy and encourage elementary school children to make inventions for recycling. In retrospect, Trash For Teachers believes in educating the community to reduce waste, reuse supplies, and re-engineer the world around us.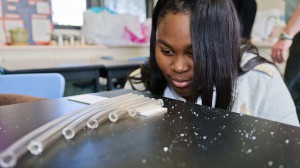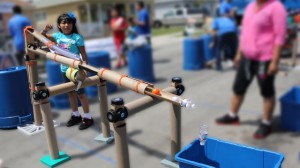 OV got an exclusive interview with the co-founder of TFT, Kathy Stanton.
1. OV:  What kind of materials has Olson Visual donated?
KS:  Eder Cetina, OV's creative director and museum consultant, has given Trash For Teachers:  vinyl scrap, matt board, print material, etc.
2. OV:  How are OV's donations being used to educate children?
KS:  Foam core and other rigid presentation scraps, are being used in a variety of ways in the K-12 classrooms. In our NASA Beginning Engineering Science and Technology (BEST) Program, after school providers have re-purposed mat boards into ramps.  Preschool teachers have used it for mounting student's work while older kids have used it for science fair projects.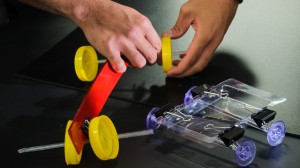 Typically, teachers are buying supplies out of their own pockets at premium costs. Therefore, we are gracious to have donations from companies such as Olson Visual to make it affordable.
3. OV:  Are there any stories of children that have touched your heart that you wish to share with us?
KS:  Just recently we had a young girl who came in with her father and sister to present the Lunar Lander model project.  It was touching to see how proud all three of them were. It was a privilege to experience how we can make a difference in a child's development.  We are happy to provide materials that inspire creativity and we are very grateful to our donating partners like Olson Visual that make it all possible!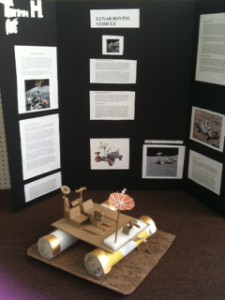 4. OV:  How would you describe Olson Visual's plan of action towards a greener practice?
KS:  I think they seem to have a strong and sincere social responsibility. Their initiative is very environmentally focused.  I'd say that OV is definitely ECO-FRIENDLY and a pleasure to work with!
To find out more information how you can be involved in Trash for Teachers, click here to visit their website: http://www.trashforteaching.org/