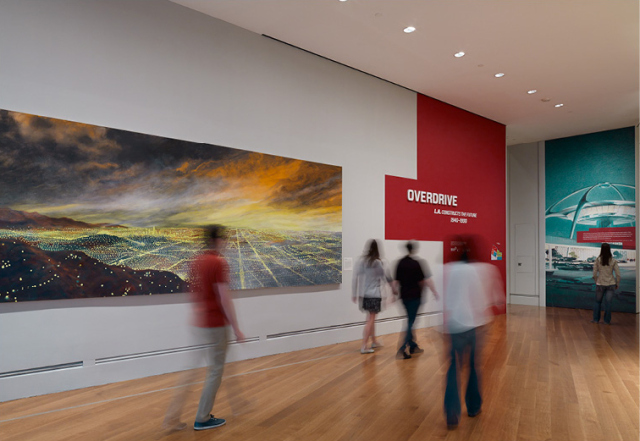 The exhibition's entrance.
This year the Western Museums Association (WMA) received a number of well-qualified nominations for the 2013 Charles Redd Center for Western Studies Award for Exhibition Excellence. Nominees included the Anchorage Museum True North, Craft & Folk Art Museum This Is Not A Silent Movie: Four Contemporary Alaska Native Artists, Fullerton College Centennial Legends and Legacies: The First 100 Years of Fullerton College, La Plaza de Cultura y Artes LA Starts Here!, Museum of History and Industry Celluloid Seattle: A City at the Movies, Natural History Museum of Utah Weaving a Revolution: A Celebration of Contemporary Navajo Baskets, San Francisco State University Fine Arts Gallery A Moment for Ink, and the Tucson Museum of Art Elements in Western Art: Water, Fire, Air, and Earth.
The 2013 Charles Redd Award recipient truly exemplifies exhibition excellence as it brings its visitors through the transformation of a major Western, as well as global, city.
Olson Visual is proud to work on this truly amazing exhibition. Congratulations to Merritt Price, Head of Design, and the entire team at the J. Paul Getty Museum! Here are some fantastic images of the exhibit itself:
Telling the story of L.A.'s growth with old and new maps.
There are multiple ways to engage with the exhibit including videos, iPads with sound wands, and 3-D viewers.
A view of the 'Engines of Innovation' section.
Within the 'Community Magnets' section, there are a variety of objects to tell the story of the 1984 Los Angeles Olympics.
In the final gallery, the relationship of furniture and graphics define the space.
The WMA is looking forward to recognizing the J. Paul Getty Museum at the 2013 Charles Redd Award recipient at the 2013 Annual Meeting at a General Session on Thursday, October 9, 9:00 – 10:30 am. The Award will be officially presented during the Storytellers and Supporters Luncheon on Saturday, October 12, 12:30 – 1:45 pm.
To find out more information regarding this award, please visit:
http://westmuse.wordpress.com/2013/08/22/2013-charles-redd-winner/
To register for WMA 2013, please visit: ‪http://www.regonline.com/WMA2013
To view the Preliminary Program, please visit:http://www.westmuse.org/conferences/WMA_2013_Prelim_Program.pdf