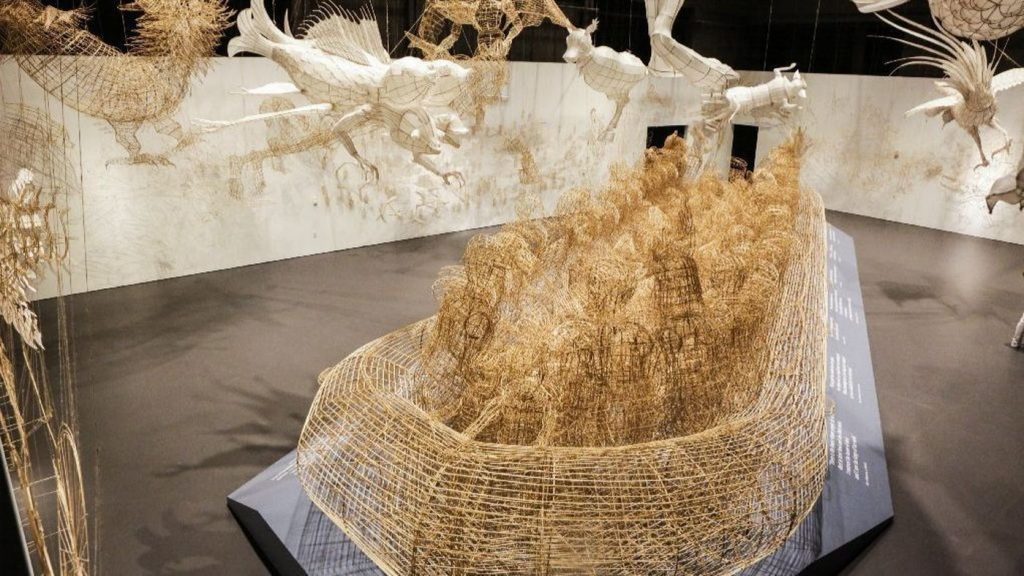 Olson Visual works on the new Ai Weiwei exhibition, "Life Cycle" at the Marciano Art Foundation. This large-scale installation features a fine-crafted sculpture using a traditional method of kite-making. Another sculpture titled Law of the Journey, is a makeshift boat representing the refugee crisis.  Also, there is an installation consisting of antique teapot pieces from the Chinese Song Dynasty (920-1279) titled Spouts.
Lastly on display is the famous piece Sunflower Seeds (Kui Hua Zi), which premiered at the Tate Modern in 2010. It is comprised of forty-nine tons of individual sunflower seeds made out of porcelain. More than 1,600 artisans were hired to produce the seeds by hand in the city of Jingdzhen, also known as the "Porcelain Capital".
Weiwei is known for his critique on the economic and political injustice in China and the world. With this particular work, he used these seeds to represent both a childhood memory and political statement. The seeds were a popular childhood food in China that both rich and poor shared and ate. It was also used as a symbol for Communist leader Mao Zedong. He would create propaganda graphics using the sun and sunflowers as a camaraderie.
The use of porcelain comments on the negative modern term of "Made in China" and the exquisite skills of artisans in his country. By using so many seeds that all look alike, represents the uniformity of mass produced products. In contrast, he is also alluding to craftsmanship because each seed is different when observed closely.  "Sunflower Seeds asks us to examine how our consumption of foreign-made goods affects the lives of others across the globe." (https://www.khanacademy.org/humanities/ap-art-history/global-contemporary/a/sseeds-ai-weiwei)
Check out these images of the exhibition and the extraordinary work our team did. We created the graphics on the installation.
"Life Cycle"
September 28, 2018 – March 3, 2019
Artist Ai Weiwei
Marciano Art Foundation's website