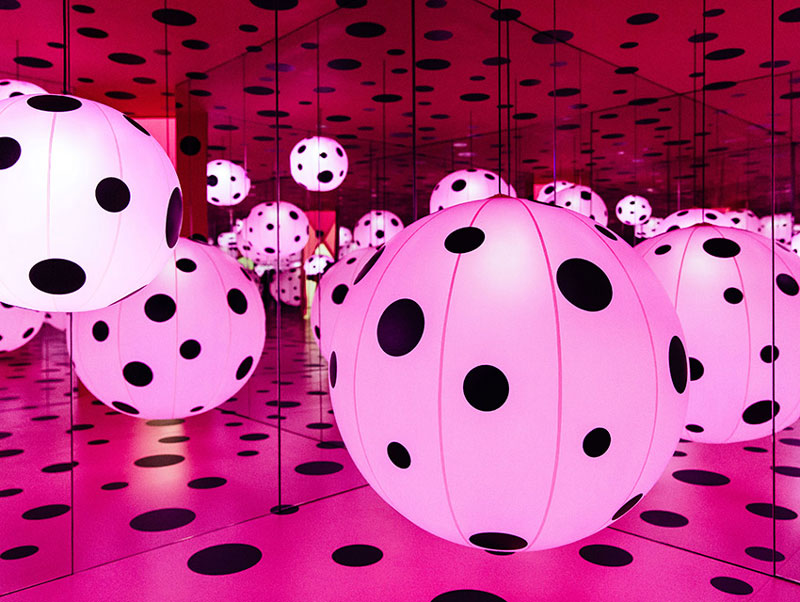 Yayoi Kusama is known for the infinite dots that she described in 1961 as "Infinity Nets". They would be performative painting or an immersive experience in a vast space.
Due to mental illness, she would experience the world in a vivid distortion. Shapes and colors would  be enhanced. Art critic Bob Nickas says,"These forms come not only from the artist's observation of nature, but from an inner mindscape,… the paintings can be seen as representations of space, as well as images of what cannot easily be represented—infinity or hallucination."
She represented the current political and social climate during  the 60s and 70s. Her work matched the hippy culture with optical illusions and psychedelics. The artist was also influenced by minimalism, pop, and surrealism. Her medium not only included painting but she would stage various edgy performances in New York City.  These performances were very politically driven by displaying her nude body in various places in the city to protest the Vietnam war. It was a statement against Wall Street and the excess of money in a hierarchy system. She was also commenting on the inequality of male-driven exhibitions at museums.
Later on in her career, Kusama expressed her vision with installation work. She installed massive environments that referenced her interior mind. She started painting on the floor which spilled over to the entire room. In 2013 she created Infinity Mirrored Room—The Souls of Millions of Light Years Away, which was a room entirely covered in LED lights and mirrors. The mirrors allowed the lights to expand to an infinite space. She created an experience for the viewers that was an extension of her earlier work.
Olson Visual installed pole banners and marquees at The Broad Museum in Los Angeles. It advertised Infinity Mirrors that was currently on display at the museum.
The Broad Museum
221 S. Grand Avenue
Los Angeles, CA
https://www.thebroad.org/art/yayoi-kusama