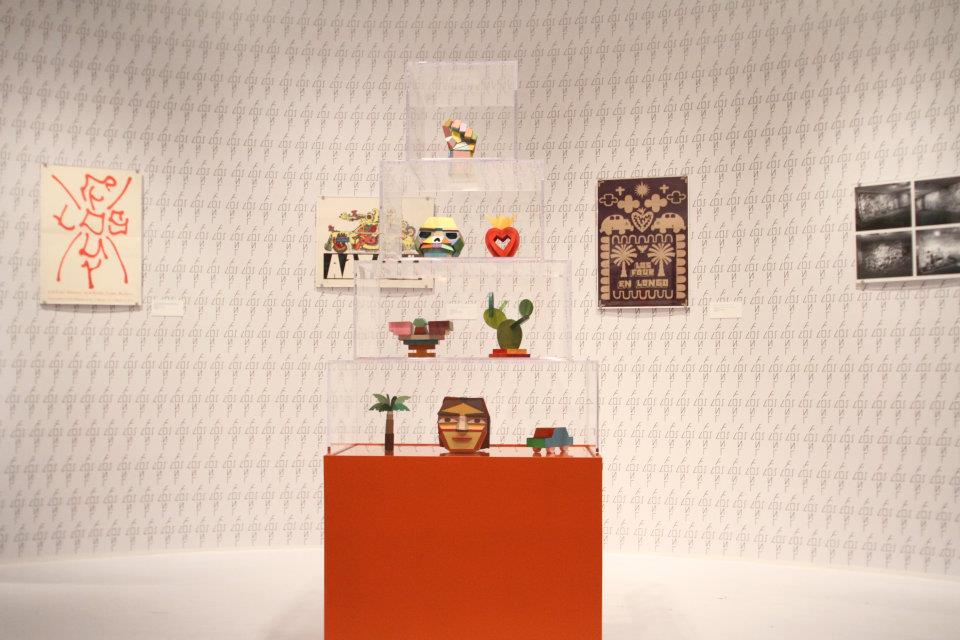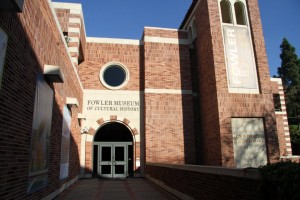 The Fowler Museum along with UCLA's Chicano Studies Research Center (CSRC), presented "Mapping Another L.A.", an exhibition that examines the cultural movement of Chicano history.  In conjunction with Pacific Standard Time, and two other associated retrospectives at the Los Angeles County Museum of Art and Autry National Center; Fowler takes a deep look into the empowerment of social movement.  Olson Visual provided reflecting graphics to better illustrate this powerful message.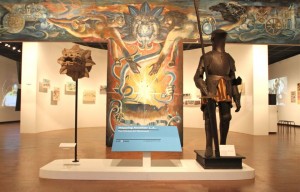 When entering the Fowler exhibition, a large colorful mural greets the viewer.  Designed initially as a façade by José Luis Gonzalez, it symbolizes the new art areas in East Los Angeles.  Gonzalez also founded the first Chicano arts organization in East Los Angeles, named GOEZ Imports and Fine Arts.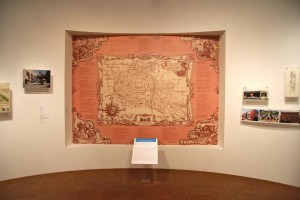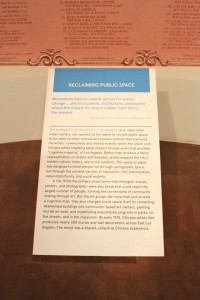 When walking further into the space, the viewer notices a guide that tells the specific locations of murals in East Los Angeles.  Just below, a large poster by Olson Visual commented on how these site-specific pieces during the 1970s postwar movement were reclaiming public spaces. These murals represented social change and equal opportunity in education, institutions, and other non-private establishments.  Murals were in essence, a "cognitive mapping" of the Chicano movement.
Next, the viewer is confronted with an actual phone booth with a 8mm transferred film projection against a long hallway.  "Xolotl Soup" is a 2011 rendition of the initial performance piece by Asco members on December 24, 1971.  This contemporary piece by Romo-Santillano, is an interpretation and homage to the original Vietnam War protest piece that comments on the ephemeral of performance art.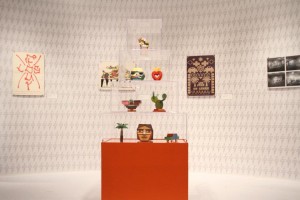 Around the corner, is an installation with wall graphics provided by Olson Visual.  This seamless black and white wall helps to shape the importance of the pieces from the first mainstream Chicano exhibition held at Los Angeles County Museum of Art in 1971.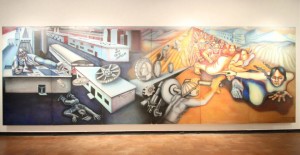 Around the corner, Judith F. Baca's transportable mural hung in the center of the wall, creating a focal point to the room.  "Uprising of the Mujeres", is a 1979 acrylic on wood that reflects a femminist approach to the struggle of the working class system.  Baca is not only a pioneer of the L.A. women's movement but a strong figure in Chicano history.  She has dedicated herself in helping the community of Los Angeles by providing children, creative outlets.  She founded SPARC (Social and Public Art Resource Center) where she created the largest mural in history.
Lastly, a few original posters hung on the wall from the notorious Asco collective.  Asco was a group of artists who performed fashion events as political protests.    They also commented on pop culture by staging false photo shoots as pretend celebrities.
The freeways of the 1960s and 70s provided much economic isolation to LA Chicano's. We forget that Los Angeles was once a segregated class system and this show reminds us the importance of this historical account of L.A.'s civil rights movement.  "In Europe all Roads lead to Rome, In Southern California all Freeways lead to East Los Angeles."
http://www.fowler.ucla.edu/exhibitions/mapping-another-la-chicano-art-movement