The history of UCLA's Hammer Museum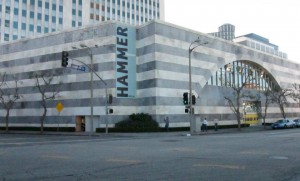 The Hammer Museum carries on the University of California Los Angeles' mission of cutting edge research. Through well-planned exhibitions, this institution provides a culturally rich perspective on the current contemporary art environment. It also facilitates shows of historical importance.
Originated by Dr. Armand Hammer, prior Chairman of Occidental Petroleum, the museum was designed to be near the company's headquarters. At first the shows were organized with only Dr. Hammer's personal collections of antique drawings and paintings. After his death in 1990, the museum sat empty for a long time. Originally, the institution was supposed to open three weeks after his death, but everything came to halt until UCLA in 1992 resumed responsibility of its completion.
With Henry Hopkins as the director until 1999, the museum went under a transformation into a cultural mecca. It now selects shows that include the underrepresented and the political.
Olson Visual has created some of the most memorable banners and graphics for this institution. For May of last year, they delivered the large-scale posters that hung within the walls of this amazing museum. The graphic you see here is an advertisement of the exhibition, Paul Thek:  Diver, A Retrospective. This was a great example of an underappreciated artist. He was actually one of the first installation artists but died in 1988. This retrospective was an awakening of a forgotten talent.
Hammer isn't afraid of taking risks. It gives us a new diverse viewpoint on life, the university and the community.
To find out more information regarding the Hammer Museum, you can visit their website: http://hammer.ucla.edu/about/index.html
Location:
10899 Wilshire Blvd
Los Angeles, CA 90024
Main Phone: 310.443.7000
Museum Hours:
Tue – Fri 11am – 8pm
Sat & Sun 11am – 5pm
Admission
$10 Adults
$5 Seniors (65+) and UCLA Alumni Association Members with ID